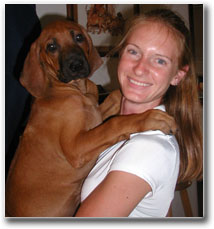 Shawna graduated from
Veterinary School at Texas A&M
in May 2003.  She worked at various clinics around the state of Texas with her longest tenure being with CityVet located in Dallas, TX. Shawna's medical interests were in canine reproduction and exotic animal medicine and facilitated her interests by participating in canine reproductive physiology research at Texas A&M University. 
Shawna bought her first ridgeback in 1995. Although purchased as a pet at the time, he was what started her passion for the breed. These events eventually led Shawna to purchase the foundation for her kennel -
Kalyan
.
Shawna's love for the breed has led her and her kennel to obtain many accomplishments and consistently ranked her as one of the top Owner/Handlers within the Ridgeback breed.
Award of Merit (AOM) RRCUS National Specialty 2012: Fiona
Reserve Winner's Dog (RW) RRCUS National Specialty 2012: Encore
Award of Merit (AOM) TVRRCOT Regional 2012: Fiona
Top 10 AKC Rhodesian Ridgeback Conformation 2011 (#4) & 2012 (#9): Bentley
Award of Merit (AOM) Westminster 2012: Bentley
Award of Excellence (AOE) Eukanuba 2011: Bentley
Best in Specialty Show (BISS) TVRRCOT Regional 2011, 2012, 2014: Bentley
Best of Opposite (BOM) TVRRCOT Regional 2011: Fiona
#12 AKC Lure Coursing 2010: Tiva
Top 20 AKC Rhodesian Ridgeback Conformation 2008 & 2009: Zaka
Best in Specialty Show (BISS) TVRRCOT Regional 2008: Zaka
#1 Owner Handler RRCUS 2006
WB 2006 SDRRC Specialty: Fable
WB/BOW 2006 TVRRCOT Specialty: Fable
High in Trial {Obedience} 2006 OCRRC: Safari
Best In Sweeps 2006 TVRRCOT Specialty: Nikko
#3 Owner Handler RRCUS 2005
#4 Obedience RRCUS 2005: Safari and All Breed High in Trial (10/2005)
#2 Owner Handler RRCUS 2004
#7 Obedience RRCUS 2004: Safari
First Ridgeback to get a perfect 100 in Rally: Safari
First Place Brood Bitch TVRRCOT Specialty and World Congress 2004: Kalyan
WD 2003 TVRRCOT Specialty: Rommel